IMAGINE : IF YOU COULD GET TO YOUR IDEAL SIZE AND SHAPE AND
WITHOUT CRAVINGS FOR SWEET OR SAVOURY FOODS,


And Actually Enjoy It!

No Weight Gain

- Adding Years To Life Expectancy To Spend With The Ones You Love
Don't Just Take Our Word For it
Here is what our clients have had to say about the Online Programme...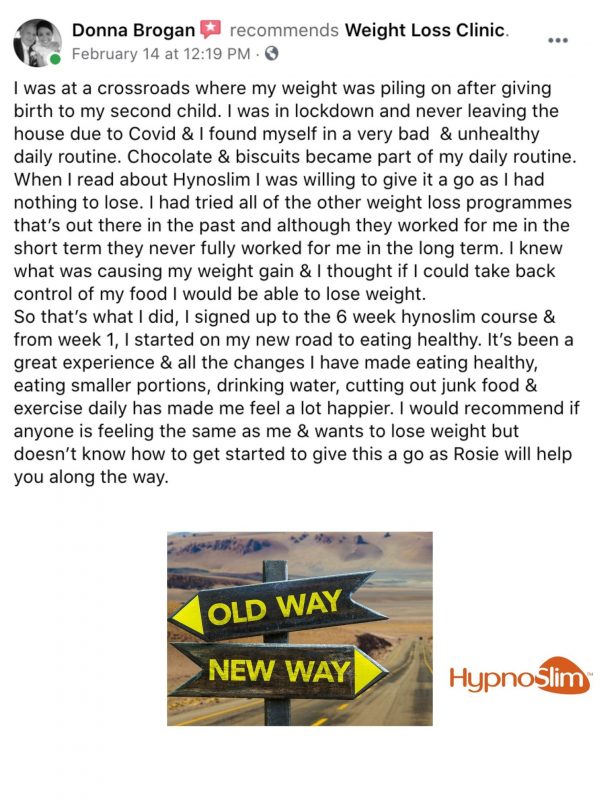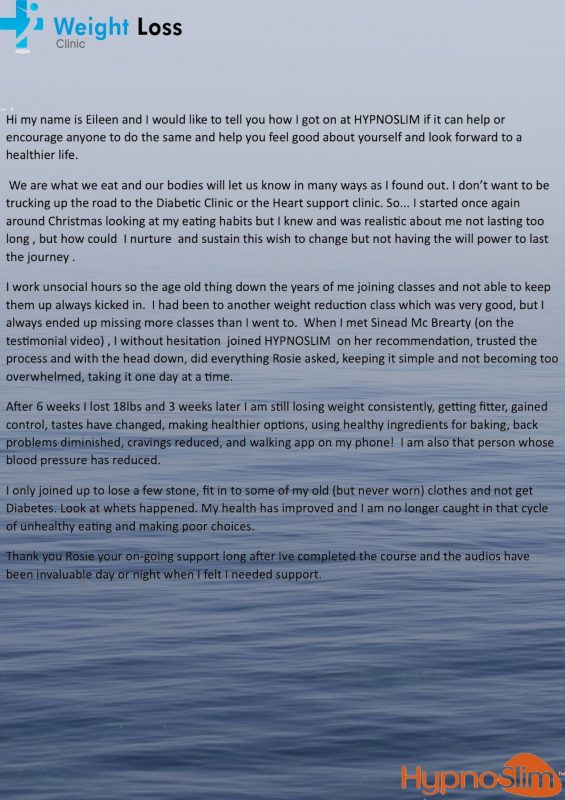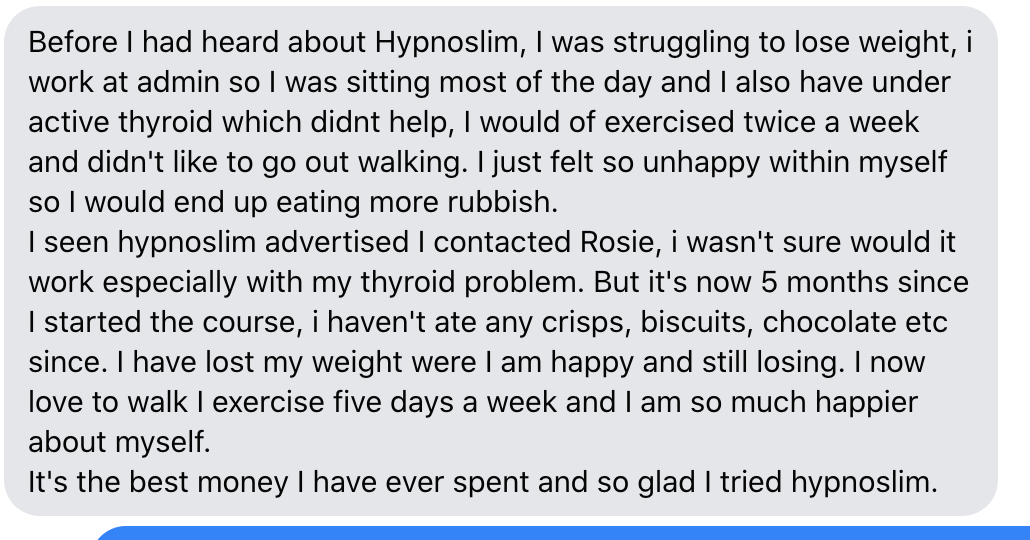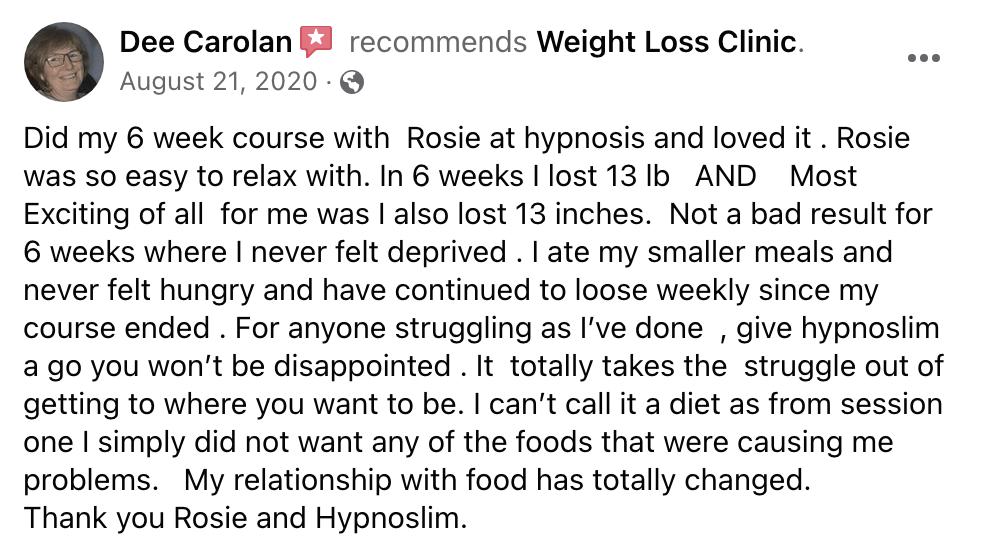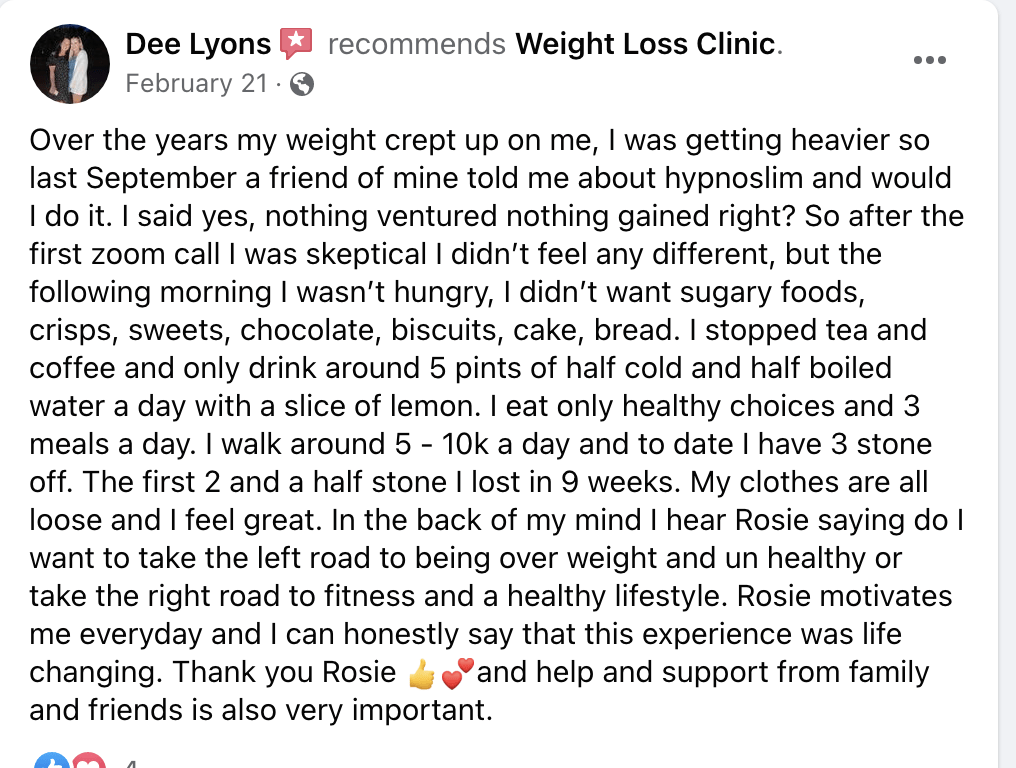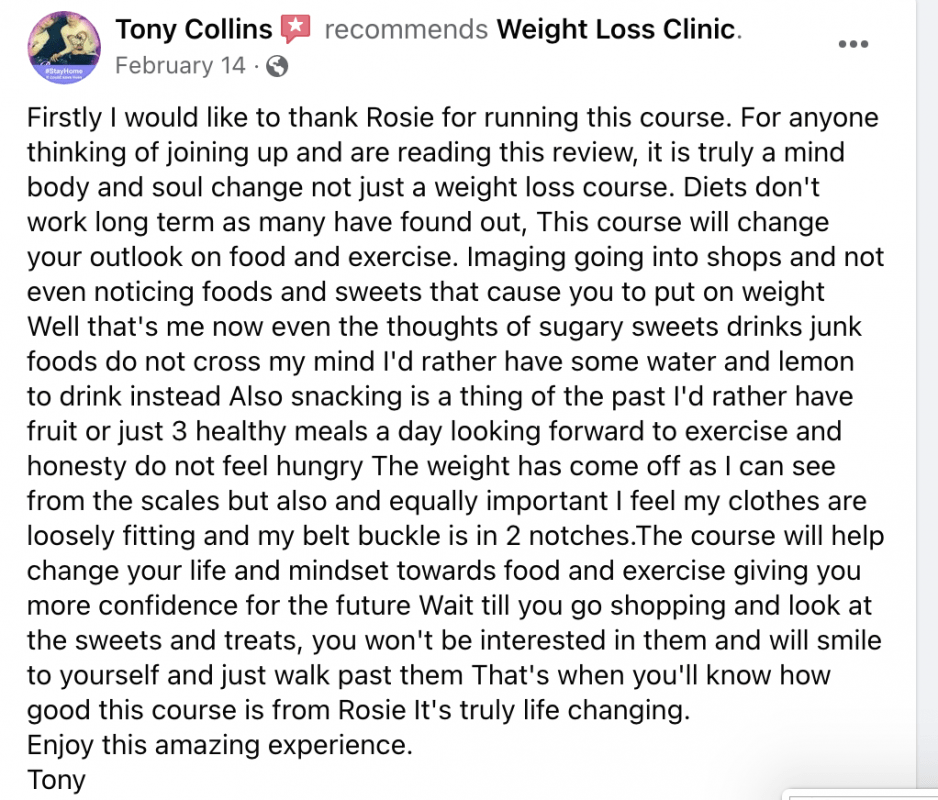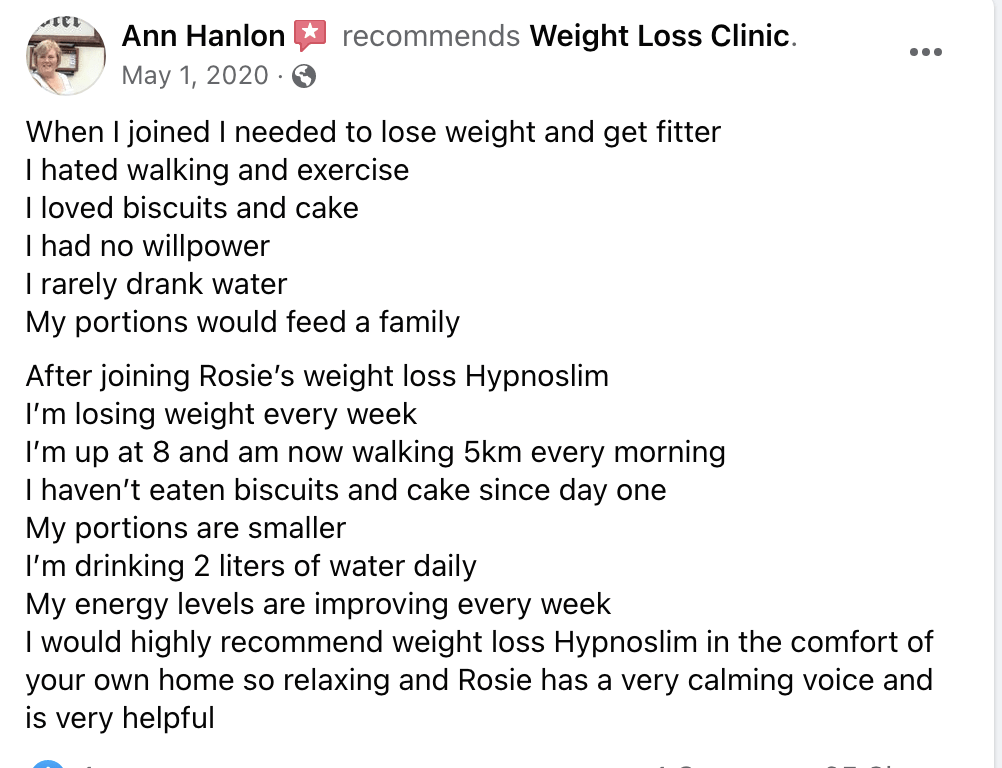 You'll Never Feel Deprived On This Program...

If you're looking for the newest fad diet to "lose weight fast," then this program isn't for you. In fact, there's tons of those out there for you to choose from.
This program is for those who not only want to lose weight, but also want to get healthier in the process - I'm talking about increased energy levels, better mental clarity, better skin, balanced hormones, and much more!
This is not your typical weight loss plan. In fact, Hypnoslim uses a holistic approach to weight loss by utilising Hypnotherapy, and maximise weight loss results. This program is the real solution to longterm health and weight loss, not a fad diet..
BOOK ME IN NOW
I WANT TO BE FREE AGAIN!!
(Sound like YOU?)
Let Me Show You How.
MEET YOUR DEDICATED PERSONAL TRANSFORMATIONAL THERAPIST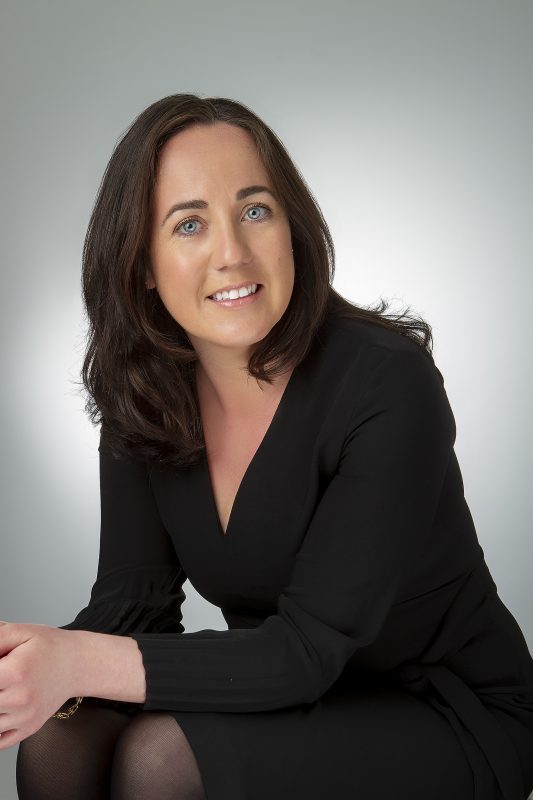 Rosie Callaghan
Adv Dip Clinical Hypnotherapy ICHI

Rosie is a Clinical Hypnotherapist from Donegal and also the Owner of the Weight Loss Clinic. She is extremely passionate about helping her clients change their relationship with food, which results in them becoming their ideal shape.
Rosie is a mother of 2 and understands how life takes over, and very often our individual needs as mothers and women can get put aside very easily!
Rosie has just spent 2 years in Toronto where she set up the clinic Ontario Hypnosis, helping many Canadians change how they feel towards food.
She is very thorough in her work as a Hypnotherapist and passionate about eliminating people's anxieties which have been causing them to overeat. Rosie has a clinic in Cabinteely, Dublin 18.
This 6 week Programme Is PERFECT for You, if:
​You're super busy with work and family and would love to lose weight and have more energy, but you just feel so discouraged because you've tried over and over again and just can't seem to stick to it
​You feel so overwhelmed and confused. You don't know what diet you should start or what's the truth about how to lose weight.
​You've done it … you've lost weight before, but you're ready to pull your hair out because you always gain it all back!
​You feel like your body is cursed because … it doesn't matter what you try, the scales simply won't move!
​You're at the end of your "weight-loss rope" …
Frustrated, confused, kind of depressed, and pretty hopeless that you'll ever get results.
You're sick of wasting time, energy, and money on fad diet after fad diet and you're ready for the truth.
^ This Training Will Totally Change the Way You Think About "Eating Right" and Losing Weight
Plus, We'll Have Some Fun 🙂

Book Me In Now *limited to 30 seats